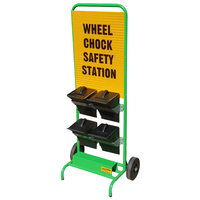 Industroquip were pleased to partner with a global company that has a fleet of over 860 trucks in Australia alone to create a wheel chock storage system that could be placed in truck yards and near loading docks at all their sites to ensure there were always wheel chocks located in a clearly marked, easy to see location ready for deployment each time a truck parks to ensure complete safety on site.
Industroquip specialise in providing companies with customised safety solutions to solve even the most difficult safety issues that companies may experience.
Industroquip provide transport companies with wheel chocks, wheel chock stations, wheel nut indicators and many other safety products they require for their fleets.
We'd love to work with you and your company as wel, put us to the test now by calling 1300 554 192.