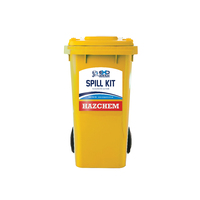 The short answer is YES, read more...
In Australia, there is legislation, regulations, Australian Standards and Codes of Practice that state the requirement that any business conducting an activity where the risk of a spill must have sufficient and appropriate spill control and response equipment in place.
Each state has its own environment protection legislation and regulators. The common theme through these various jurisdictions is the principal of duty of care.
The Environmental Duty of Care states:
'A person must not carry out any activity that causes, or is likely to cause, environmental harm unless the person takes all reasonable and practicable measures to prevent or minimise the harm'.
This means that every reasonable step to avoid the spill and prevent spill from harming the environment must be taken. If these reasonable steps are not taken it constitutes an offence against the Act.
So the short answer is YES, you need a spill kit on your site to protect you, your company and the environment.
Industroquip is a leading provider of Spill Kits and Spill Control Products in Australia, we hold large stocks in our Brisbane, Newcastle & Perth Spill Control warehouses.
If you have any further enquiries relating to Spill Kits and Spill Control please contact our team now on 1300 554 192.