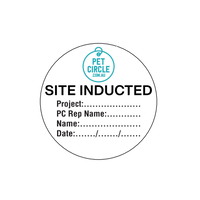 Do you make Custom Induction Labels for hard hats?
The short answer is absolutely!
Safety inductions are very important because essentially they help prevent injuries or accidents from occurring in the workplace. It is a direct tool for bringing awareness of safety issues and procedures to all types of workers (from regular employees, contractors or even visitors).
Here at Industroquip we manufacture 1000's of customized site induction labels for customers right over Australia every month, often used on construction projects, infrastructure sites, railway shutdowns and even warehouses.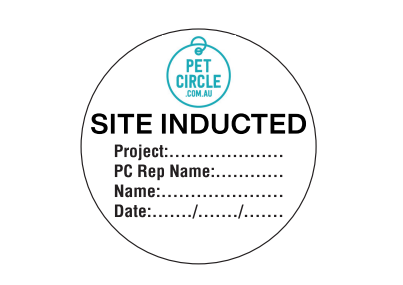 The standard induction labels we do feature your logo at the top, with the wording SITE INDUCTED underneath along with project name and date of induction however we also do add induction numbers, QR Codes and much more.
Customised induction labels normally come in a pack of 100 labels and can be supplies in almost any colour, shape or size. They can also be used to notify who on site has a forklift license, who has a crane operator license, to show who are visitors on site, whether someone is trained out for LOTO lockout/ tagout and first aid etc.
So, you might be wondering, how do I get my own custom induction labels?
This is a very straight forward process, simple email our team with a copy of your logo and a brief description of the text and points you'd like to include along with your project name and the Industroquip team will reply with a quotation and a mockup design for you to consider.
Once you're happy with the design we proceed to printing and will have them dispatched within 24 hours on a courier for fast delivery to your site.
We also stock safety signs for the front of your site to notify staff or contractors that they are not to start work until they have completed their site induction.
Get in touch with the team today