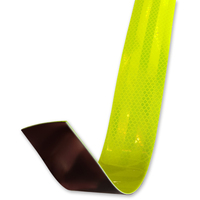 We often get asked, does the Industroquip Magnetic Reflective Tape for mining vehicles and the magnetic UHF call signs fall off when I drive at speed?
It really all depends, we cannot guarantee they will not fall off at speed.
If you are really concerned we recoemmend pulling the magnetic reflective tape and positive identification plates off prior to driving on main roads especially with speeds in excess of 100km.
The main contributor to the magnet reflective tape failing is if it has been applied to a dirty vehicle, we recommend wiping the area clean prior to applying our magnetic reflective products to prevent them coming off.
In saying this, we have thousands of metres of magnetic reflective tape and thousands of magnetic vehicle id plates out on vehicles all over Australia that never have had a problem with them falling off their vehicles.