Recently another quarry has reported having overhead power lines brought down by a dump truck.
The NSW Resource Regulator has released a statement that another dump truck with his tipper body raised has hit some overhead powerlines and continued to drive forward.
As every one knows this is extremely dangerous and the could cause death or serious injury.
The NSW Resource Regulator has made some comments to the industry;
Operators should consider the risks associated with all activities that may occur near overhead power lines, irrespective of the frequency or complexity of the activity. Consideration should be given to all controls to prevent equipment encroaching on safe approach distances for high voltage overhead power lines, including:
alternate travel routes or work sites

limits on maximum height for any equipment that may travel, or be transported below, or work near overhead power lines

warning signs or barriers (temporary or permanent) for overhead power lines (include safe height limits).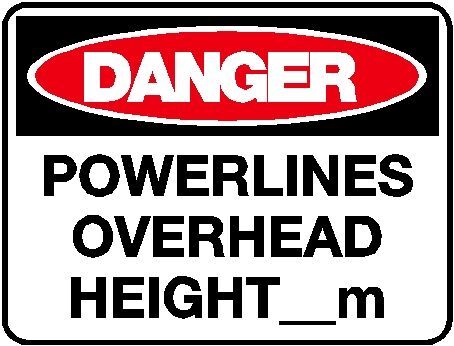 Here at Industroquip we offer a full range of Overhead Powerline Safety Products including Overhead Powerline Safety Signs, Yellow Corflute Workers, Look Up Traffic Cones and Overhead Powerline Table Stickers for inside the cabs of dump trucks and machinery.
For help to implement overhead powerline safety initiatives in your workplace please contact the Industroquip team now on 1300554192.