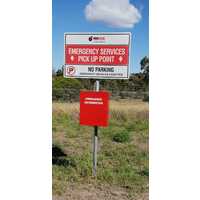 Industroquip specialise in customised solutions to create safer workplaces throughout Australia.
We were approached by a large mining company to manufacture and install a customised package which included emergency information, location signage and contact details to be used as Emergency Services Pickup Points throughout their coal mines.
Industroquip also manufactures Reflective Mining Safety Signs and other custom safety products for mine sites throughout Australia.
For custom safety stations, safety signs or solutions to any safety issues you may have contact us now on 1300 554 192, we have the manpower and experience to solve any safety issue in your workplace.