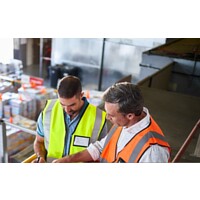 On Friday I had a senior advisor ask me the question, Do you offer onsite workplace safety signs inspections and provide recommendations?
Feeling quite pulled up that I just assume our valued customers knew we offered this service I thought I'd put it out there to let you all know that yes we certainly do.
Industroquip have Australia'a largest range of standard Safety Signs in stock ready for fast delivery Australia wide. We also are the manufacturer of all our own safety signs meaning you can deal direct with the manufacturer and also we can customise your safety signs to your exact requirements - FAST!
Industroquip have a team of experienced safety sign auditors strategically located right across Australia ready to spring into action and complete an obligation free safety sign inspection in your workplace.
What will you get as a result of your safety sign inspection?
After your onsite inspection, you'll receive a full report including photographs of hazards and areas of concerns and recommended corrective actions.
To book your safety sign audit today call us now on 1300 554 192.