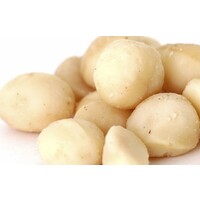 We love Macadamia Nuts and the Macadamia farmers are going nuts over our great safety products
Located in the beautiful Sunshine Coast hinterland, Sahara Farms is a macadamia producing powerhouse with around 40,000 trees on 4 properties.
Macadamia harvesting leaves a lot of waste dirt and leaves in the rows between the trees, tests have revealed that there is a high level of nutrients in the leaves left on the orchard floor following harvest, so they are also chopped up with a finishing mower and spread back under the macadamia trees.
This process is great for soil health however the dust produced whilst undertaking this job was causing health and safety concerns to the Gowen family.
Laura from Industroquip was approached by Benjamin Gowen manager at Sahara Farms Pty Ltd in Queensland to provide a solution to protect their staff while doing orchard floor maintenance, Laura recommended a Sundstrom PAPR system for them and they are loving them so much they've purchased further units since for more staff. Benjamin said recently "Thank you very much for the gear! Makes a big difference working in a cleaner and more comfortable environment!"
No matter what industry you work in or wherever you are located the team at Industroquip have the solution to your health and safety problems and have the product range and expertise to help.
Industroquip proudly distribute ExoGuard Disposable Respirators, Moldex Disposable & Reusable Respirators and Sundstrom Respirators Australia wide.
Call Industroquip now for a solution to any safety need you may have in your workplace on 1300 554 192.