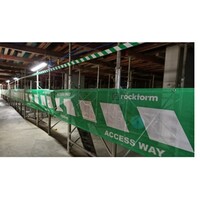 Bannamesh is fast becoming very popular for marking out safety walkways on sites.
Many construction companies and formwork contractors particularly in Sydney & Brisbane are utilising our Premium Printed Bannamesh™ Product to mark out designated safe walkways and exclusion zones in and around construction sites mainly around formwork, scaffolding and area's near deep excavations.
The main advantage of the Bannamesh product is you can clearly communicate your safety message and what the safety zone or exclusion zone is for and also promote your brand on site.
Bannamesh™ comes in 50 metre rolls and when used as Safety Access Walkway it usually is manufactured 1 metre wide allowing enough space for clear communication of messages and making it affordable enough to use in temporary construction works.
Bannamesh™ comes with welded edging for durability and stainless steel eyelets every 500mm to make it simple to install to scaffolding, temporary fencing and much more.
Bannamesh™ is a very durable product, printed by Industroquip in our Newcastle facility and distributed Australia & New Zealand wide.
For all your safe walkway and exclusion zone printed mesh needs and construction site safety signs contact us now on 1300 554 192