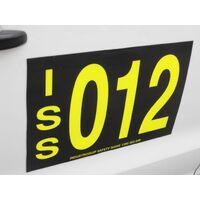 You don't want your UHF Call Signs falling off your mine vehicles when you're driving along, nor do you want them peeling when you go through a high pressure car wash,
However, when you need to sell you vehicle you want to remove your Class 1 Reflective Tape and UHF Call Signs, it can be a real challenge.
Firstly you need the correct tools:
You'll need Citrus Cleaner we recommend DeSolvIt or Simple Green which are both readily available from Bunnings.
You will also require a plastic scraper, razor blades and a heat gun.
Peel Reflective Back
Use handled tool containing a new single edged razor blade to lift an edge of the marking. Change razor blades frequently, as a sharp blade delivers best results.
While keeping the edge of the razor close to the surface of the substrate, begin to work the razor from side to side in small strokes in the direction of removal.
Pull the loose marking with minimal tension from the substrate at an angle of approximately 45 degrees while working the razor back and forth.
Remove the Adhesive
To remove the adhesive:
Spray solvent onto the adhesive residue.

Let the solvent soak on the adhesive for three to five minutes.

Use a sharp razor blade in a handled tool to scrape off adhesive.

Wipe residue off razor onto paper towel.
It may be necessary to repeat steps one through four several times to remove all adhesive. All adhesive residue must be removed before reapplying markings. Substrate must be cleaned with alcohol using one towel to clean and another to wipe away residue before reapplying markings.
If you get really stuck take the vehicle to your local smash repair shop and they have know how and the specialty tools to get the adhesive off.