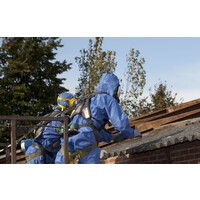 You can only dispose of asbestos waste at a licensed landfill that manages asbestos away from the community.
You can only dispose of asbestos waste at a landfill that's licensed to accept it. Contact your nearest landfill site to confirm they accept asbestos and ask about disposal processes. Using a licensed landfill keeps asbestos in a well-managed space and away from the community.
We strongly recommend using a licensed asbestos removalist to remove and dispose of asbestos waste.
How much does asbestos disposal cost?
The cost of asbestos disposal varies between licensed disposal facilities. If you choose to remove small sections of asbestos yourself, you are responsible for disposal costs.
What is WasteLocate?
WasteLocate uses GPS to track asbestos from pickup to disposal.
When do I have to use WasteLocate?
If you are removing and transporting more than 100kg or 10m2 of asbestos waste, you must use WasteLocate. This includes unlicensed asbestos removal and licensed asbestos removalists.
If you own the property where the asbestos waste came from, you are responsible for how the waste is disposed of, even if a licensed removalist or tradesperson is doing the job for you.
Ask your removalist for a WasteLocate consignment number and use the tracker to check on the disposal.
Do I need to make a booking to dispose of asbestos?
Always phone ahead to the licensed landfill before you start asbestos removal. They can confirm if they can accept your asbestos waste and contaminated PPE.
What you can't do with asbestos waste?
It is illegal to:
dump asbestos waste — it must go to a landfill licensed to accept it

put asbestos in your kerbside bin

put asbestos in an uncovered skip bin or skip bin not approved to hold asbestos

reuse or recycle asbestos such as using it for building or fencing.
If you think you've spotted illegally dumped asbestos, don't touch it. Report the asbestos to your local council or the NSW EPA Environment line on 131 555.
Industroquip have been heavily involved in the safe removal and disposal of Asbestos for over 2 decades and provide a huge range of quality and compliant PPE & Asbestos Disposal Products for delivery across NSW and the rest of Australia very fast.
For more information contact our team on 1300 554 192 today.
(Information contained in this post is provided by the NSW EPA)