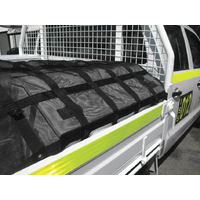 Many of you do not want to ruin your work vehicles resale value when applying mine spec equipment, here is a few quick tips for you.
You need to Mine Spec your vehicle to work on a particular mine site or large civil project, but you don't want to devalue your work vehicle or make it almost impossible to remove all the equipment when the time comes to upgrade your ute or truck?
We hear you!
Here at Industroquip we seriously hear you! This is why we've worked hard to develop new innovative products and processes to protect your work vehicles resale value, some of these include:
Magnetic Mine Spec Accessories
Industroquip have developed a range of magnetic mine spec products that can be easily fitted to your work ute or truck quickly and simply removed once you get off site, these magnetic mine spec accessories are becoming very popular in work sites and mine sites right across Australia and beyond.
Some of our magnetic solutions include Magnetic Mine Bars, Magnetic Reflective UHF Call Signs, Magnetic Reflective Striping, Magnetic Rotating Beacons which are all in stock ready for fast shipping Australia wide.
Magnetic Mine Spec Equipment also allows you to use your work vehicle for work and play and also allows the ability to quickly and easily adapt hire vehicles to mine spec vehicles to expand your fleet for a temporary surge in vehicle needs.
Another unique solution
Because all reflective tapes have very aggresive adhesives it is nearly impossible to properly remove reflective tape off vehicles let alone the left over adhesive once removed, a simple solution Industroquip has come up with that really helps is applying a less aggresive self adhesive vinyl underneath all reflective tapes and reflective call ID plates, this makes it easier to remove and improves the turnaround time getting the vehicle ready for resale as well as preventing long term damage that decreases resale value.
We trust this has been helpful, any further questions please contact our team on 1300 554 192 or sales@industroquip.com.au, we'd love to hear from you.