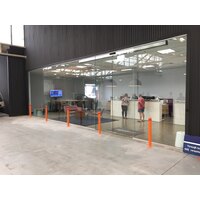 We often get asked how are other steel bollards so much cheaper
When purchasing Car Park Bollards customers sometimes ask, "what is the difference between Industroquip's Steel Bollards and the $54 Steel Bollards from Bunnings"
There is more than even meets the eye that you may not realise even until a few months after you've purchased the cheaper bollards.
Here are 5 key differences between Industroquip Car Park Bollards to the cheap $54 bollards available from Bunnings or even other cheap bollards from other so called safety companies that are popping up online here and there.
Galvanised Steel instead of Mild Steel
The key difference between mild steel and galvanized iron is that the mild steel undergoes rusting very easily if the steel has no proper coating whereas galvanized iron has corrosion protection. Mild steel is a form of carbon steel that is an alloy of iron and carbon along with some trace elements.
All Industroquip Steel Bollards are manufactured using hot dip galvanised steel and then finally finished off with a premium powdercoat finish, meaning the Industroquip bolllard will last for many years longer than the cheaper alternatives.
Steel Wall Thickness
All Industroquip bollards have a 5mm wall thickness as opposed to a 3mm from cheaper alternatives on the market.
This difference cannot be noticed with the naked eye until it gets bumped by a vehicle in your car park or workplace but soon will be and could seriously mean the difference between protecting a building or more importantly a life.
Powdercoating
The quality of Industroquip's powdercoating is second to none, the other cheaper alternatives claimed powdercoated finish however the powder coating is rough and thin and inconsistent.
The other difference with powdercoating on the car park bollards are all Industroquip bollards are consistent colouring where as cheaper alternatives have large colour variations and thicknesses in each different batch.
Welding
All Industroquip bollards are welded very neatly and consistently by robotic welding technologies while cheaper bollards out there are very roughly welded often with spatter left on the bollards.
Base Plate
Industroquip have 10mm thick base plates on all our car park bollards compared with 5mm on competitors bollards this makes a massive difference to the strength and performance of your car park bollards if bumped by a vehicle.
Other things to consider
Another key consideration when purchasing bollards for your car park or warehouse facility is the cost of a life that may be saved by using proper safety bollards, the cost of potential damage to your building, vehicles, machinery and so much more.
For all your car park safety bollards needs contact the team at Industroquip today on 1300 554 192 or sales@industroquip.com.au
The following article is an honest product review item provided for the benefit of the consumer to compare products in the market,
Its content does not necessarily reflect the views of Industroquip.