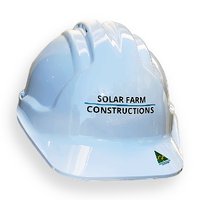 As it is an industry norm to have expensive set up fees on all printed logo hard hat jobs we often get asked what is the set up fee for getting my personalised hard hats with my company logo on them.
At Industroquip we have realised that this is often a big hidden surprise to many customers when they are buying custom logo hard hats, they get the price per unit and then bamm here comes the set up fee which is typically hundreds of dollars, because we want to be easier to deal with we offer FREE SET UP ON ALL CUSTOM LOGO HARD HAT JOBS!
This is great for our customers because they want open and upfront pricing and no shocks and often they think they are stuck with an unreliable incumbent supplier of printed hard hats because of the industry normal excessive set up charges, but its easier when dealing with Industroquip because its free of charge.
We trust this answers your questions on set up fees on printed logo hard hats in Australia, we woulc welcome any other questions you may have, please contact us now on 1300554192 or email brendan@industroquip.com.au
We look forward to hearing from you now.