Accelerating another 8 loading docks and a large warehousing facility to Zero Injuries
Recently we were approached by one of our safety consulting partners based in Sydney to work with one of their clients, a global company with a large distribution centre in Moss Vale NSW to help them accelerate their loading docks to zero injuries and implement their new and improved traffic management plan.
Industroquip specified and installed 8 of our telescopic loading dock safety gates, workplace safety signs, 16 of our steel safety bollards and roll over mezzanine safety gates across their warehouse and loading dock areas.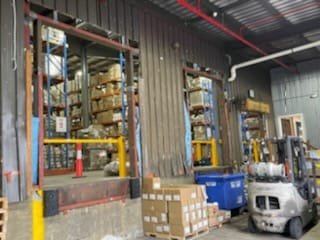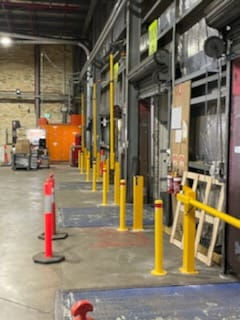 Industroquip's loading dock safety gates are ideal for restricted overhead space for use where insufficient room for swing gate. They can extend from 2.3 to 3.8 metre and the boom can be locked at any length. It includes receiver post with lockable latch and is nicely finisged off in a powder coated safety yellow finish.
The Industroquip mezzanine safety gate is a roll over gate that allows pallets to be moved to and from mezzanine floors and dock areas safely. Available in larger sizes this unit just fits standard sized pallets not oversized pallets.
The Roll Over Gate works on the principle of providing hand, knee and kick rails to either side of the palletized load by simply swinging the evenly balanced gate over the top of the load, protecting persons from the fall edge which eliminates the risk of fall injury.
Industroquip manufacture and supply a large range of workplace traffic management products and equipment here in Australia to help you in accelerating your workplace to zero injuries.
Workplace Traffic Management Products & Equipment Direct!
Industroquip offers Australia's best range of Workplace Traffic Management Products.
Whether you are after a fully installed warehouse safety barrier in Melbourne, a Forklift Warning Sign in Sydney or a Convex Mirror in Brisbane the team at Industroquip have the Equipment, Man Power & Experience to perform for you and your company.
If you're looking to implement a workplace traffic management plan in your workplace the team of Safety Consultants at Industroquip recommend the Safety Culture Workplace Traffic Management Plan Template
Reach out to the team at Industroquip today on 1300 554 192 to learn more about our large range of warehouse safety products and our Australia wide installation services to help accelerate your loading docks to zero injuries!