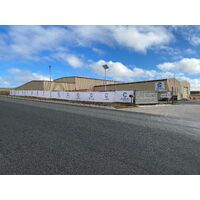 We were absolutely delighted to see a post on LinkedIn, Facebook and Instagram from one of our valued customers Mid West Concrete in Blayney NSW saying
"We couldn't be happier with our new banner! Highly recommend"
Mid West Concrete is a company you can depend upon, with a solid reputation for manufacturing high quality precast concrete products since 1985.
They manufacture a large range of concrete cattle troughs, sheep troughs, horse troughs, pig troughs, feedlot troughs, septic and water tanks, pits and risers, concrete pipes and headwalls and were looking for a large advertising banner across the front of their large manufacturing site in Blayney NSW.
We'd like to thank Mid West Concrete for their business and their nice compliments on social media, we would highly recommend working with Mid West Concrete for all your precast concrete requirements.