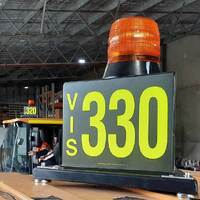 Mine Sites and Large Civil Projects in Australia require light vehicles and plant equipment to be fitted with call number signs for communicating via UHF's while on site.
Industroquip Safety & Signage custom manufacture these magnetic vehicle numbers as well as self adhesive numbers as well for major mining and civil contractors right across Australia.
Class 1 Reflective available as a Vinyl Sticker or Magnetic Sign.
You can reverse the numbers / background if needed. Just let us know if you need black letters/numbers on reflective background. After selecting your sign size (which depends on how many letters there are)

For the smaller 550mm sign, you are restricted to 3 or 4 letters/numbers. Choose the 600mm or 800mm for 5 letters/numbers. The 250mm high is for 200mm high letters, the 350mm high is for 200mm or 300mm letters. (or what height you need). Likewise, the 800 x 350 is designed for 3 to 5 letters/numbers.
We use a high quality Class 1W fluoro yellow/green and also Yellow. We can also make these in another colour or reverse the colours (black letters). Importantly, Stickers are high tack and for flat surfaces.
Industroquip also stock reflective tapes, safety stickers, MDG15 compliance products and almost anything you could possibly need for light vehicle compliance on mining sites whether you are based in the Hunter Valley, Perth or the Bowen Basin we have you covered.
Mining Signage , Mine Spec Vehicle Stickers, Mining Vehicle Signage and Reflective Vehicle Numbers are all manufactured in our Hunter Valley manufacturing facility and throughout Australia and beyond.