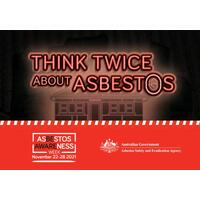 Asbestos Causes Cancer, Check up, gear up and clean up!
Asbestos is still present in millions of homes, as well as public and commercial buildings across Australia.
In homes built before 1990, asbestos can still be found anywhere. This affects 1 in 3 homes nationwide.
This year's National Asbestos Awareness Week (22-28 November 2021) campaign asks Australians to Think Twice About Asbestos. The campaign challenges complacency by reminding home renovators and tradespeople that the danger of asbestos is far from over.
The aim of the campaign is to raise awareness amongst the public and key trades about the health risks associated with exposure to asbestos fibres, where asbestos products can be found and prompt behavioural change – to contact a licensed asbestos professional.
The campaign this year is reminding people to Check Up, Gear Up & Clean Up.
If you have a house you are renovating or you are in the asbestos removal industry in Australia be sure to check out Industroquip's huge range of Asbestos Removal Products online, Industroquip stock everything you need to Gear Up including the ExoGuard range of PPE, Moldex Respirators and Sundstrom Respirators. And everything you need to Clean Up with our huge range of Asbestos Bags and disposal products including our brand new range of Hazi bags for total compliance when disposing of asbestos and other hazardous wastes.
So to Gear UP & Clean Up get in touch with Industroquip today on 1300554192.