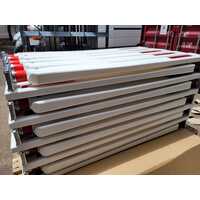 Industroquip work with Western NSW Mine Site to improve traffic safety management
Mine Sites are busy places, with a mixture of Light Vehicles and Heavy Vehicles, good workplace traffic management is absolutely critical to minise risk and hazards, especially on mine site haul roads and HV vehicle movement areas near workshops, washeries etc,
Mixing LV's with HV's can be catastropic resulting in crushed vehicles, death or serious injury so its very important to get your mine site traffic management sorted.
Industroquip have a huge range of workplace traffic management products for use in mine sites and other workplaces like industrial facilities, warehousing facilities and even shopping centre car parking areas ready for fast shipping Australia wide.
Industroquip have recently worked with a mining company near Condobolin in improving their workplace traffic management and supplied many products including our flexible stake guide posts to help mark out hazards and help make visibility on mine site roadways better for improved safety.
The Flexi Flexible Guide Post is a system within its self. A drivable anchor, connecting flexible joint and the HDPE. High-Density Polyethylene post tops are individual products. For your convenience can be ordered and replaced separately. After initial installation, the post top can be replaced at any time without the need to dig another hole or drive another post in its place.
Approved and accepted in all states and territories in Australia. The Flexi360 is a 1000mm white post available with a full range of installation options. With over a million Flexi360 posts installed around Australia, they continue to stand the test of time.
Industroquip also manufacture mine site safety signage, haul road delineator posts, mine site steel bollards and solar lighting and speed control products to assist mine sites with their workplace traffic management.
For all your workplace traffic and parking product needs contact the team at Industroquip on 1300554192 or sales@industroquip.com.au we've got the manpower, solutions and experience to accelerate your workplace to zero injuries!