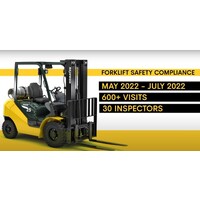 NSW Government is cracking down on forklift safety as yet another fatality has sadly taken place in NSW.
Forklifts carry more, reach higher and work quicker than any tradie, whilst they are very handy in most workplaces in an instant they can be dangerous and deadly, Forklift Safety is often overlooked but continues to be a massive contributor to workplace accidents here in Australia.
There are still far too many accidents causing death and life changing accidents to warehouse and distribution centre workers across Australia, and this needs to stop.
Managing warehouse traffic is an important part of ensuring the workplace is without risks to health and safety. Vehicles including powered mobile plant moving in and around a workplace, reversing, loading and unloading are frequently linked with death and injuries to workers and members of the public.
Traffic includes cars, delivery trucks, powered mobile plant like forklifts and pedestrians like workers and visitors.
At a warehouse goods are received and stored until they are required and then prepared for transportation. Activities include:
Receiving and unloading goods from manufacturers, importers and suppliers

Transferring goods onto pallets for storage

Storing goods in appropriate conditions e.g. freezers, cold areas, silos or racking

Responding to customer orders by picking products from warehouse shelves and preparing them

For transportation e.g. placing them on pallets or wrapping them, and

Loading orders onto vehicles for transport to the customer.
If you operate forklifts in your warehouse or manufacturing plant it is an absolute must to protect your employees and visitors to your sites from forklift hazards.
What is best practice in Australia?
Best practice is to both limit interactions between forklifts and pedestrians and if this is not possible install certified, impact rated forklift safety barriers in your workplace.
There are many forklift safety barriers advertised in Australia however very few are actually impact rated and certified.
Whilst barriers that haven't been impact rated can work and would provide some level of protection, it is always best practice to go for a certified speed rated barrier system in your warehouse.
Other methods of keep workers and pedestrians safe from forklifts and other material handling equipment is to install warehouse safety signs, clearly marked designated walkways and provide driver safety zones for delivery drivers doing pickups or deliveries in your warehouse in an exclusion zone after they've unstrapped their load for example.
Industroquip have an amazing range of forklift safety barriers about to be launched into the Australian market along with our already large range of warehouse safety signs and products, that are all backed with over 2 decades of experience in the warehouse and industrial safety sector, so if you are looking for a complete end to end solution when it comes to warehouse and forklift safety reach out to us now on 1300554192.
Some practical tips to help keep workers safe are:
Separate people from moving forklifts, using barriers or guardrails

If you cannot physically separate forklifts from people, clearly mark walkways and safe work zones, and make sure your workers stick to them

Make sure forklift operators only move loads that are stable on the pallet or use an attachment if needed

Make sure your forklift operators wear a seat belt

Make sure your workers and visitors, including delivery drivers, stick to your traffic management plan and site safety rules

Talk to all of your workers - including operators and those who work near forklifts - about how to work safely around forklifts.
Forklift incidents can be prevented, especially when workers and businesses work together to improve health and safety at work.
Industroquip can manage your complete warehouse safety upgrade and forklift safety traffic management plan to Australian Standards and SafeWork regulations.
For an onsite inspection of your workplace to help facilitate compliance to the ever increasing WHS regulations around the use of forklifts in the workplace contact our team today on 1300554192.