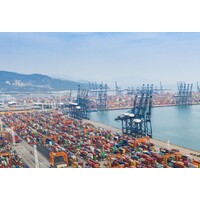 With all the chaos in the world currently, Government departments are finding our new sourcing service the answer
We've all been through unprecedented times in the past 3 years with a health pandemic turned supply chain chaos on almost every front and in almost every industry in no doubt every country in the world. From trade wars, shipping delays and massive demand on some products resulting in limited supply of important consumable goods including PPE and other safety products that have been unavailable to Government departments even First Responders which is not ideal.
Traditionally supply to Government departments was done through a tendering process, the successful tenderer secured the business and supplied the goods for several years prior to it going to public tender again, we've seen this work for large companies and Government departments over our many decades in business until we were hit with this current scenario.
The pandemic in 2020 totally disrupted convential suppy chains and has turned normal procurement practices totally on their head.
Here at Industroquip we've experienced increased demand from Government departments, banks, global corporations all looking for products that they can no longer get reliable suply of through their convential sourcing.
If you are in procurement and literally just need the gear to get the job done it can be alot of pressure and stress, we've worked hard with our suppliers globally and with suppliers we had not previously dealt with to secure supplies for many Australian Federal and State level Government departments, we are here to assist you with our unique sourcing ability.
Over the past few weeks the team at Industroquip have supplied an important Government department with literally truck loads of PPE and safety products that they were struggling to pull together, what started as a phone call early December 2021 ended in a mammoth effort from the Industroquip team to pull together loads of supplies by the strict cut off date of the 12th of January.
Whilst it has been a massive effort from our team, sourcing products from all over Australia and also the USA and we've had key team members and resources thrown at the project right throughout our end of year holiday season, we are very pleased to say that all goods have been delivered to this Government department by the 7/1/2022.
If your looking for a reliable sourcing specialist to just make it happen for you, call the Industroquip team now on 1300 554 192 and put our unique capabilities to the test.
Product Sourcing for Australian Government Departments
Overcoming Supply Chain Disruptions in 2022
Safety Equipment Supplier Australia
Sourcing company for hard to find crucial products