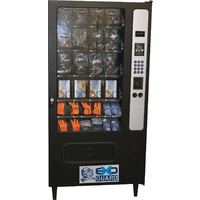 Consumable expenditure in any size business can easily get out of control and there has never been a more important time to keep it under control.
Since mid 2010 Industroquip has been actively involved in helping large organisations Australia Wide keep control of their PPE (Personal Protective Equipment) expenditure.
Industroquip PPE Vending Machines are stocked with all your PPE consumables to allow fast controlled access to stock 24/7 to eliminate waste and cut expenditure through reduced usage and improve compliance.
Features include:
Swipe/ Smart Card Access

Real Time Cloud Based Stock Reporting

Can be linked directly to your ERP or SAP Programs

Total audit of PPE usage

Accountability

Proven to vastly reduce wastage
Another way we have helped companies reduce their PPE expenditure is by conducting complete PPE usage audits which is a service we offer free of charge, with so many different brands on the market its hard to get the right product for your specific tasks at the right price.
Reach out today for more information on how we can help keep your expenditure under control. 1300 554 192 or brendan@industroquip.com.au