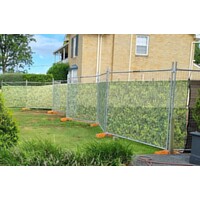 We were recently approached by a property investor and developer from the Hunter Valley NSW and asked if we could print greenery on his site fences to match in with the existing gardens to hide messy construction works currently underway on one of his projects.
The end result looks fantastic with a beautiful green hedge image printed on our Premium Bannamesh product and installed across his temporary fencing that keeps the neighbours happy with their view not being damaged during construction works, it also provides a level of security protection as valuable tools and equipment stored on site over weekends and over night aren't within the sight of would be criminals that are travelling past the site.
No matter what you can dream up the Bannamesh team at Industroquip can design and print it for you, we can also install printed banners, construction signage and banner mesh anywhere in Australia or New Zealand.