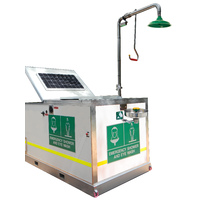 A must have Safety Shower for remote locations!
The completely self-contained, Mobile Safety Shower and Eyewash Station by Industroquip Safety & Signage has been designed for use in remote area applications especially remote mine sites.
Designed and manufactured right here in Australia, the units are fully trailer mountable and are either Battery Powered or Solar Powered, with enclosed 1500L water tanks.

The Solar Powered station has twin 80W solar cells which keep the 235amp battery fully charged, even in shady or cloudy conditions.

The Battery Powered station, when charged, can run the emergency shower and eye wash for up to 40 hours.
This Mobile Safety Shower and Eyewash Station is a must have for remote sites that require a Safety Shower and/ or Eye Wash Unit but no access to water.
For an obligation free proposal or a site inspection anywhere in Australia contact Brendan Clayton anytime on 1300 554 192 or brendan@industroquip.com.au.