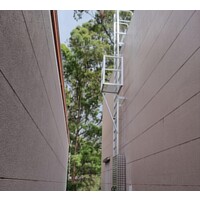 On the 4th of February 2022, the Industroquip installation team installed a modular vertical ladder system with a static line on a cinema roof in the North Coast of New South Wales along with handrails and roof walkway systems for safe access for building maintenance and air conditioning technicians servicing the HVAC equipment on the roof.
Industroquip's range of modular access ladders are manufactured here in Australia using high grade structural aluminium that is also able to be powder coated to match your new building for better aesthetics.
The client chose the Industroquip modular access ladder system as they were after durability and the ladder system comes complete with a 10 year warranty and Industroquip's complete end to end solution from initial onsite inspections and audit back in November 2021 and installation and certification early this year.
Industroquip's range of modular access ladders include ladders for access over parapets, for access to silos and tanks, for access up external concrete walls, through suspended ceilings and access hatches and more.
All our modular access ladder systems are available in kit form ready for installation or we can provide installation right across Australia.
MATERIALS
All componentry and accessories manufactured from high grade structural aluminium with options for powder coating.
DIMENSIONS
Overall ladder width – 605mm

Distance between stiles – 525mm

Rung diameter – 45 x 32mm (profiled)

Rung spacing – 300mm

Stile extension above landing surface – 900mm to 1100mm

Minimum clearance behind ladder – 200mm (vertical position)

Maximum distance between rest platforms – 6.0M
WEIGHT
Ladder body sections – 2.9kg/M (excludes fixing brackets and fixings)

Cage sections – 8.3kg/M
FIXINGS
Metal fixing – M10 bolt set

Concrete fixing – M10 mechanical concrete anchor

Metal purlin fixing – M8 toggle bolt
(Refer instruction)
WORKING LOAD LIMIT
Recommended for single person use – 150kg rated

Industrial rated, suited to high frequency usage.

Support structure integrity, suitability and fixing method to be assessed and determined by an engineer unless it is clear to a competent person prior to installation.

Vertical Line Fall Arrest System must be only used with the approved fall arrest device and harness system incorporating front chest attachment and energy absorber as per AS/NZS 1891.1:2009 (part 4).
COMPLIANCE
Our range of Ladder Systems are designed to comply with requirements of Standard AS 1657:2018 and relevant statutory OHS Codes of Practice / Guidelines.
TESTING
Testing and performance based on requirements of Standard AS 1657:2018.
PRODUCT WARRANTY
10 years from date of purchase subject to correct installation, use and maintenance in accordance with manufacturer's specifications and recommendations.
INSPECTION AND MAINTENANCE
Inspection and certification required every 12 months by competent person in accordance with manufacturer's specifications and requirements of Standards AS 1657:2018 and AS/NZS 1891.4:2009 Section (9).
IMPORTANT NOTE
Failure to supply and/or install proprietary product in accordance with above standards and codes, specifications and instructions voids complete system certification and/or warranty.
For more information on height access and height safety systems contact our height safety expert Gary Clayton on 1300 554 192 or email gary@industroquip.com.au now.