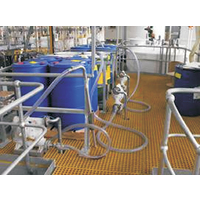 Roof Walkway Systems are essential to protect roofs from contractors accessing air conditioning units and other roof top plant and equipment as well as providing a safe, anti-slip path away from direct fall edges to protect those workers accessing this equipment.
Industroquip is Australia's leading importer and fabricator of Roof Walkway Systems in FRP (Fibreglass) and Aluminium.
Industroquip's roof walkway systems can be installed complete with intergrated handrails around fall edges to provide PPE free fall protection.
Industroquip has onsite experts available in Sydney, Newcastle, Melbourne, Canberra and Brisbane to help you choose the correct roof walkway system for your roof to protect your roof and your roof workers.
Industroquip offer the complete package from design to execution or supply only delivered direct to your site in kits Australia wide.