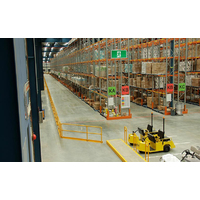 SafeWork NSW issues warning to businesses using forklifts!
Safework NSW is warning businesses using forklifts they will be visited after the workplace regulator releases astonishing figures noting an incident involving a forklift occurs every day, six days week.
SafeWork NSW Executive Director of Compliance and Resolution, Tony Williams, said incidents involving forklifts are one of the biggest issues Safework NSW faced in the manufacturing space and inspectors will be out in force and can fine operators putting people at risk.
"Over the last two years, SafeWork NSW has recorded an astonishing 598 incidents involving forklifts. Tragically five of these incidents resulted in workplace fatalities," Mr Williams said.
"While not all incidents involve an injury or death, many of these incidents include collisions between forklifts or other vehicles, rollovers, and objects falling off forklifts when loading or unloading.
"The main factor we see in people being killed or seriously injured by a forklift is primarily inadequate separation between pedestrians and forklifts, which leads to pedestrians being hit by a forklift or its load.
"Almost 75 percent of all incidents happen in just five industries – transport, manufacturing, construction, retail and wholesale. We have issued 494 notices to operators in the same time the 598 incidents happened – almost 20 percent of workplaces don't have simple seatbelt compliance in place.
"The use of forklifts continues to grow and they are great tools for all sorts of businesses, but if we are not doing it safely then people will be forced to stop using them," Mr Williams said.
SafeWork's 2021 Manufacturing Sector Plan, Forklift Compliance Project commenced in September and will see Inspectors provide education to the industry along with conducting compliance checks against high-risk industries.
"While always checking on compliance, Inspectors will be out educating users on forklift safety and is warning businesses and drivers that if they are doing the wrong thing, they will be held accountable," Mr Williams said.
"But we will also engage, educate and build strong working relationships with identified high-risk industries, small businesses and locations to embed a culture of forklift safety.
"We have already sent over 850 awareness letters to businesses encouraging them to get their workplaces in order in preparation of Safework inspectors turning up.
"SafeWork will be targeting those in high-risk industries, but any workplace in NSW that uses a forklift should expect a visit from a Safework inspector who will be looking at a range of issues including, licencing, traffic management, seatbelts, and forklift safety."
For more information on forklift safety and identifying forklift risks, visit the SafeWork website.