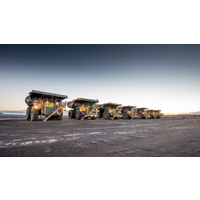 Australia produces 19 useful minerals in significant amounts, from over 350 operating mines. From these minerals, useful materials such as metals can be extracted. Australia is one of the world's leading producers of bauxite (aluminium ore), iron ore, lithium, gold, lead, diamond, rare earth elements, uranium, and zinc. Australia also has large mineral sand deposits of ilmenite, zircon and rutile. In addition, Australia produces large quantities of black coal, manganese, antimony, nickel, silver, cobalt, copper and tin.
Mining occurs in all states of Australia, the Northern Territory and Christmas Island. There is no mining in the Australian Capital Territory apart from quarries used for construction materials. Australia's Identified Mineral Resources, has up-to-date information on mineral resources in Australia including resource estimates, production and export figures.
Most of the 217,000-plus miners in Australia (45,800) work in exploration and mining support services. About 75,900 work in metal ores, followed by nearly 52,000 that work in the coal mines. About 20,000 work in unclassified areas, 12,600 in oil and gas and 7,600 in non-metallic and quarrying.
Industroquip Safety & Signage are dedicated to helping the Australian mining contractors and mining companies 'Accelerate their sites to zero harm'
We provide a large range of Mining Vehicle Safety Equipment including Mine Vehicle Flags, UHF Call Signs, Safety Lighting, Spill Kits, First Aid Kits, Vehicle Fire Extinguishers, Wheel Chocks, Reflective Tape and much more.
Put us to the test today for all your mining safety signs and equipment