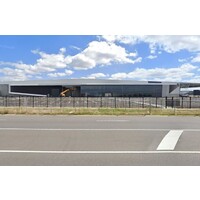 Industroquip are pleased to have our safety signs installed at Bapcors new distribution centre
One of Asia-Pacific's biggest suppliers of vehicle parts and accessories, Bapcor Ltd, has just completed one of the nation's biggest warehouse facilities at Melbourne Airport.
Its Victorian distribution centre covers about 50,000 square metres, all under one roof.
The team at Industroquip were pleased to recently supply some of our Australian Made Safety Signs to this state of art facility at Melbourne Airport to help improve the workplace traffic management and safety between pedestrians and forklifts.
The new distribution centre boasts world-leading supply-chain systems with the constant focus points on safety and complete efficiency throughout every aspect of the distribution centre's operations.
The warehouse will service Bapcor's 32 business units and 1100 locations in Australia and New Zealand.
These include its retail division (Autobarn, Autopro, Sprint Auto Parts, Opposite Lock); service division (Midas, ABS, Shock Shop, Battery Town); trade businesses (Burson Auto Parts, Burson Auto Parts Thailand, BNT, Precision Automotive Equipment, Truck & Trailer Parts): and specialist wholesale group that includes AAD, Autolign, JAS Oceania, Baxters, Bearing Wholesalers, Roadsafe, MTQ, Diesel Distributors, Federal Batteries, Japanese Trucks Australia and Truckline & Diesel Drive.
For help in implementing workplace traffic management systems in your warehouse or distribution facility anywhere in Australia, reach out to the team at Industroquip today on 1300 554 192.
Industroquip have over 20 years of experience in the workplace safety industry and manufacture a large range of safety signs and other safety products right here in Australia.
Industroquip is Australia's leading provider of Safety Signs & Products.
We offer Australia's largest safety sign range, amazing customer service, fast turnaround times, quality products at low prices! And if you happen to find a lower price for the same or equivalent products we will beat that price by 5%.
Industroquip manufacture and supply thousands of temporary and permanent Australian Safety Signs every day for workplaces, businesses and work sites. Some of the best sellers include Stop Signs, Construction Site Signs, Safety Signs, Danger Signs, Warning Signs and other associated products like sign posts, brackets etc.
Australian signs covering all mandatory safety messages, warning and danger signs, prohibition signs like no smoking signs and more are available off the shelf, in stock for fast delivery Australia Wide.
Signs such as car park exit signs, speed signs and first aid signs and more are all available to buy online.
If you can't find the safety sign you're looking for, Industroquip's unique 'Create Your Sign' service is the answer. Simply download the form and fill in your requirements and we can create any kind of safety sign for you!
At Industroquip we can create signs in any colour, shape, size you need. Industroquip have grand format printers in house that can print road guide signs, printed banner mesh and building signs any size!
Whether you are needing to restrict access to a particular area, providing directions to visitors or alerting employees of potential hazards, safety signs play a very important role in facility management.
Industroquip Safety Signs are all manufactured in our own state of art manufacturing plant in Australia to the highest safety and quality standards in quality materials including Colorbond, Polypropylene, Self Adhesive Vinyls, Reflective, Engraved Traffolyte and Corflute, visit our range of Standard off the shelf safety signs now and buy online!
Find out more about safety signs and what signs to use in your situation by visiting www.safework.nsw.gov.au or your relevant state department.