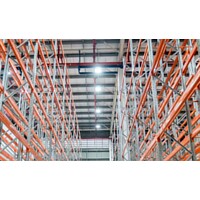 On the 27th of January 2022, the team at Industroquip were awarded the contract to provide Safety & Signage Equipment to a new state of art warehousing facility in Palmerston, Northern Territory.
Industroquip had previously worked with the client helping them Accelerate their workplaces to zero injuries in several different locations including Brisbane, Newcastle, Adelaide and Melbourne and were recommended to the Northern Territory team by the Melbourne based team.
Some of the safety equipment provided on this project included Convex Mirrors, Driver Safety Zones, Hazard Warning Signs, Emergency Information Signs and Danger Safety Signs.
How do I know what Safety Signs I need?
Some clients are confused at times what safety signs and equipment they require in their new warehouse or workplace, this is one area the team at Industroquip can really help you out with, we offer free onsite consultations and audits of your workplace and provide recommended corrective actions, we have fully qualified safety consultants available Australia wide who can assist you with safety sign audits, workplace traffic planning, first aid audits, spill control inspections, height safety and warehouse traffic management assistance.
With Australia's largest range of standard safety signs and the ability to customise safety signs to your exact requirements, no one can help you more than Industroquip when it comes to safety signs in the workplace.
Where is Palmerston?
Palmerston is a planned satellite city of Darwin, the capital and largest city in Australia's Northern Territory. The city is situated approximately 20 kilometres from Darwin and 10 kilometres from Howard Springs and the surrounding rural areas
So wherever you are located in Australia the team at Industroquip are here to help you Accelerate your workplace to zero injuries, whether you are a cattle station in Northern Queensland, a large distribution centre in Western Sydney or a Mine in Port Hedland.
Industroquip have been manufacturing safety signs and equipment for Australian businesses for decades and have the manpower and experience to tackle any job large or small anywhere in Australia.
Call the Industroquip team today on 1300 554 192 or email sales@industroquip.com.au to discuss your upcoming projects.