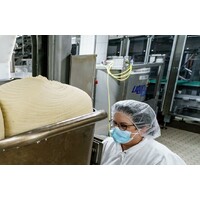 Project Highlight: Safety Signs for large food manufacturers new warehouse in Truganina
Industroquip have been pleased to work with a major Australian food manufacturer over the past 2 months on the manufacture and supply of Safety Signs and Products at their new warehouse facility in Truganina Victoria.
Some of the safety signs provided by Industroquip have been Danger Signs for the loading dock safety upgrade, floor marking decals for door way openings, emergency safety signs to point out emergency equipment, exits and muster points along with directional and safety signs to help them implement their new workplace traffic management plan.
Truganina is a suburb of Melbourne, Victoria, Australia, 22 km west of Melbourne's Central Business District, located within the Cities of Melton and Wyndham local government areas that is fast becoming a thriving warehousing and industrial centre.
Some of the new developments in Truganina include West Industry Park, Truganina Logistics Park and Link360 industrial precinct.
Industroquip is Australia's leading provider of Safety Signs & Products.
We offer Australia's largest safety sign range, amazing customer service, fast turnaround times, quality products at low prices! And if you happen to find a lower price for the same or equivalent products we will beat that price by 5%.
Industroquip manufacture and supply thousands of temporary and permanent Australian Safety Signs every day for workplaces, businesses and work sites. Some of the best sellers include Stop Signs, Construction Site Signs, Safety Signs, Danger Signs, Warning Signs and other associated products like sign posts, brackets etc.
Australian signs covering all mandatory safety messages, warning and danger signs, prohibition signs like no smoking signs and more are available off the shelf, in stock for fast delivery Australia Wide.
Signs such as car park exit signs, speed signs and first aid signs and more are all available to buy online.
If you can't find the safety sign you're looking for, Industroquip's unique 'Create Your Sign' service is the answer. Simply download the form and fill in your requirements and we can create any kind of safety sign for you!
At Industroquip we can create signs in any colour, shape, size you need. Industroquip have grand format printers in house that can print road guide signs, printed banner mesh and building signs any size!
Whether you are needing to restrict access to a particular area, providing directions to visitors or alerting employees of potential hazards, safety signs play a very important role in facility management.
Industroquip Safety Signs are all manufactured in our own state of art manufacturing plant in Australia to the highest safety and quality standards in quality materials including Colorbond, Polypropylene, Self Adhesive Vinyls, Reflective, Engraved Traffolyte and Corflute, visit our range of Standard off the shelf safety signs now and buy online!
If you have a warehousing facility in Truganina or any other logistics and industrial centres in Melbourne contact the team at Industroquip now on 1300 554 192 to get your workplace up to Worksafe Vic standards.