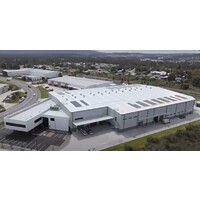 Sheffield Group is a fourth generation Australian owned and operated family company.
Established right back in 1970 providing shaving razors to the Royal Australian Navy, Sheffield Group had stayed true to its foundations of providing cutting tools that can be trusted in the heat of battle.
Sheffield Group recently outgrew their existing distribution facility in Cardiff NSW and upgraded to a new state of art head office and distribution centre at Boolaroo, the new facility was built by Ron Frankel at Charter.Pac and was structurally designed by Griffiths Engineers and the architectural design was completed by Crawford Architects.
Industroquip were pleased to be chosen by Sheffield Group to supply all the new Warehouse Safety Signs and Car Park Signs for this fantastic new facility.
The new facility boasts a warehouse floor size of 5600m2 and a 600m2 suspended office facility and is situated on the popular Munibung Road, Boolaroo NSW near Bunnings, Costco and other state of art warehouses like Alpha Lifecare.
Industroquip is a leading Australian manufacturer of Safety Signs and Equipment that have been in the Australian manufacturing industry since 1975.
If you have a similar project to the Sheffield Group project the team at Industroquip would love to hear from you, we have experience in manufacturing and installing safety signs and other warehouse safety equipment like safety barriers, driver safety zones, warehouse safety bollards, mezzanine safety gates, loading dock safety gates, convex mirrors and much more.
Call us now on 1300 554 192 to discuss your project.