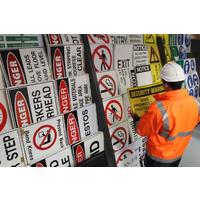 Seven Hill's Most Trusted Safety Signs & Equipment Supplier.
Every employee has the right to work in a safe environment and return home in the same state as when they left that morning.
It is the responsibility of the organisation or employer to provide a safe workplace for their employees and workforce by ensuring they are not exposed to any unnecessary dangers or hazards.
Safety starts with the right culture and training in the organisation however the most affordable safety way to ensure your staff, contractors and visitors are safe at all times in your workplace, site or facility is to provide the very best in Safety Equipment to eliminate the dangers, Safety Signs to warn of any other hazards and Personal Protective Equipment when the danger cannot be total eliminated.
No one makes it easier than the team at Industroquip Safety & Signage to meet or exceed Worksafe & EPA Regulations and Australian Standards to keep your employees, contractors and visitors safe at all times and eliminate the heavy fines and litigation that come with a non-compliant and unsafe workplace or facility.
Whether you are needing to protect your staff from hazardous chemicals, pedestrians from moving vehicles in your yard or car park or contractors working at heights from fall edges on your property Industroquip Safety & Signage have Australia's best range of Safety Signs & Equipment.
Industroquip Safety & Signage provide fast delivery to any Sydney business as well as anywhere else in Australia & New Zealand, when ordering our web store provides a shipping estimate to ship your goods direct to your door or site, however if you are ordering bulky goods or a large bulk order please call our friendly sales team on 1300 554 192 or instant chat one of our customer service representatives and we will work out special pricing for you.
Not sure what you require or cannot find what you are looking for? Contact Industroquip now and we'll source or make it for you.