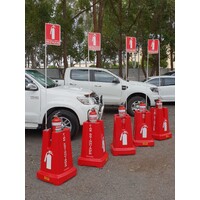 Industroquip were pleased to partner with the Sydney Metro 2 Project in the manufacture and supply of Fire Extinguishers & Stands
Sydney Metro is Australia's biggest public transport project.
From the north west, metro rail is being extended under Sydney Harbour, through new underground city stations and beyond to the south west.
In 2024, Sydney will have 31 metro railway stations and a 66km standalone metro railway system, revolutionising the way Australia's biggest city travels.
The team at Industroquip Safety & Signage are pleased to partner with the contractors on the Stage 2 on this exciting new project in the supply of Fire Extinguishers and our new unique Fire Extinguisher Stands.
For more information or pricing on these great products contact Brendan Clayton on 1300 554 192 or brendan@industroquip.com.au