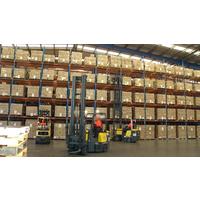 Take Forklift Safety Seriously
Take Forklift & Pedestrian Safety Seriously
Forklifts are handy machines in the workplace but can be extremely dangerous if not used safely.
Safework NSW has reported two separate forklift incidents in the past week, so we thought it would be timely to remind all our valued clients to take forklift safety seriously.
In the 1st incident, an 18yr old warehouse picker suffered a fractured left leg when an unlicensed & unauthorised driver reversed into him at a Homebush meat wholesaler, Friday, 30 Sep. The 2nd incident occurred when a high reach forklift rolled onto a 35yr old forklift driver at a Yennora furniture warehouse, Tuesday, 4 Oct, fracturing his left leg.
Three points to remember are;
To operate a forklift you must have a valid forklift license, whilst Industroquip Safety & Signage don't offer forklift licenses we can recommend a suitable training organisation in your region if required. Please contact your local customer support representative for more information on this.

If you were not instructed to move a plant item – don't move it.

You must have a suitable traffic management plan in place to separate forklifts and pedestrians,
On point 3, the team at Industroquip Safety & Signage are here to help you with the separation of forklifts and pedestrians. From the design, fabrication and installation of forklift/pedestrian barrier systems through to the supply of more temporary measures like Traffic Cones, Bollards, Extendable Cone Barriers and Skipper Retracting Belt Barriers to name just a small selection of our complete range of systems, we have you covered for forklift and pedestrian safety.
Safework NSW have some interesting and helpful videos and printable posters available for you to use in your workplace to help promote forklift safety, click here to visit this page on their website for more information.
Thank you for reading and remember to take forklift safety seriously.
If you have further forklift and/ or pedestrian safety questions please contact one of our safety experts on 1300 554 192 anytime.