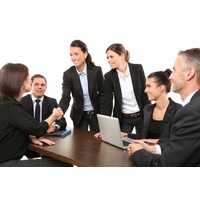 As Safety Sign & Equipment Providers we get to work with some awesome people, here is our 3 best WHS consultants list
In our work as Safety Professionals we get to work with some amazing WHS Consultants across Australia every single day.
We often get asked "Who would you recommend we use as a WHS Consultant" and whilst there is literally hundreds of good WHS consultants out there and that we really enjoy working with, if you are based in New South Wales here in my opinion are the best WHS consultants we often work with.
Read Consulting Group
Based in Rose Bay NSW but working all over Australia, Richard & Shirley Read of Read Consulting Group are an absolute pleasure to deal with.
Richard has an extensive portfolio of large clients including international property owners, large cattle stations in outback Qld right down to warehouses and building maintenance companies in Greater Sydney.
We've worked with Richard for many years on many different projects and have always found him to be honest, reliable, trustworthy and his knowledge of WHS, HR & Insurance is second to none.
Red Insight
Red Insight is a professional WHS & Risk Management Consultancy Business based in Maitland NSW with clients spread all around Australia.
James & Monica are professional WHS consultants that are great to work with, they serve many of Industroquip's clients being located nearby to our head office in Rutherford.
Benchmark OHS
Benchmark OHS Consulting Pty Ltd has been servicing Small to Medium Enterprises (SME) to ASX Listed companies for over 15 years.
Industroquip love working with the Benchmark OHS team all over New South Wales.
If you are a Small to Medium Enterprise owner looking for a WHS Consultant be sure to give Ben Chinwah a try.
As we said there are many others out there that are also great to work with but this is in our opinion the best 3 WHS Consultants in NSW.
To discuss further feel free to call our team on 1300 554 192.