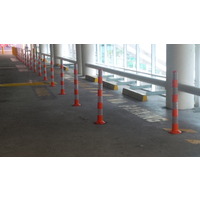 We often get asked for recommendations of a consultant that can provide workplace traffic management plans
Working around traffic, including plant and vehicles, can pose significant health and safety risks. Between 2013 and 2017, vehicle accidents in the construction industry caused an average of 251 incidents annually.
Traffic management measures must be used to control the health and safety risks associated with working around traffic.
Traffic management is the planning and control of traffic from one location to another. It focuses on creating and managing an orderly and efficient movement of persons and goods, creating a safe environment for all users. It includes the organisation, arrangement, guidance and control of both stationary and moving traffic, including pedestrians, cyclists and all types of vehicles.
Having been heavily involved in the workplace safety industry for over 2 decades we've gained a very good database of specialists in all areas of workplace safety that we are happy to recommend, we often get asked for recommendations of a consultant that can provide workplace traffic management plans and advice regarding the safe movement of pedestrians and vehicles, we recommend the below 4:
BENCHMARK OHS CONSULTING SYDNEY
Ben Chinwah from Benchmark in Miranda NSW is the go to man in Sydney and beyond with offices right around Australia, Ben and his team are specialists in workplace traffic management plans and consulting they have over 12 years experience and have worked with many companies large and small across Australia provide traffic management plans for workplaces.
SAFETYZONE OHS CONSULTING IN MELBOURNE
If you are looking for a workplace traffic management plan in Melbourne we receommend you try the team at Safetyzone. Lindsay Brunton and his team have a great load of knowledge and experience in workplace traffic management consulting and are very helpful.
CARDNO
Many larger sites like shopping centres, universities and multi-location companies in Australia have been using Cardno for very detailed workplace traffic management plans, loading dock safety upgrade advice and consulting. The team at Industroquip have worked on multi Cardno projects across Sydney, Brisbane & Melbourne and highly recommend their detailed workplace traffic management plans with detailed corrective actions.
YOU
Many smaller businesses that cannot justify spending a large sum of money on a fancy workplace traffic management plan have been utilising the Traffic Management Plan Template available at Safety Culture which is a seriously useful tool that Industroquip highly recommend.
If you are after Workplace Traffic Management Products in Australia, the team at Industroquip have years of experience and access to the largest range of workplace traffic management products in Australia including barriers, speed humps, safety signage and much more, Call 1300 554 192 now to discuss your current requirements