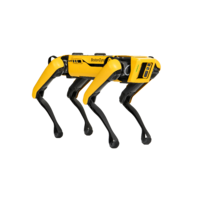 Sphere drones introduces Australia to 'Spot' the safety robot!
While not the best with words, Spot let its navigational skillset do the talking, showcasing why the innovative, quadrupedal drone has been making waves not just in construction, but in a myriad of industries.
Spot's manoeuvrability, coupled with its ability to scan, map, and record data instantaneously, make it a perfect candidate to mitigate on-site risks and conduct otherwise dangerous inspections or tasks.
In construction, Spot can autonomously inspect progress on construction sites, create digital twins, and even compare as-built conditions to Building Information Modeling (BIM).
Spot is perfect for safety inspections in otherwise dangerous to access areas of a construction site or even in underground mining situations.
Developed by Boston Dynamics and introduced to Australia by Sphere Drones Spot is indicative of the amazing advances technology is taking to improve site safety.
Keep watching the Industroquip Learning Hub for more new developments and to stay at the forefront of the safety industry in Australia.