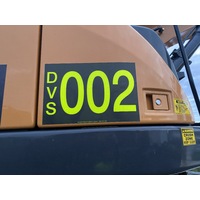 Industroquip have been assisting many civil contractors and others in getting their site vehicles and machinery up to mine spec standards for the Western Sydney Airport project
Western Sydney International Airport is an international airport currently under construction within the suburb of Badgerys Creek near Penrith NSW.
The airport is planned to have 24-hour and curfew-free operations, and will supplement Kingsford Smith Airport, which has reached capacity due to a legislated curfew and flight caps.
The team at Industroquip have been very pleased to assist many of our valued clients that are working on this landmark project with the neccesary products and equipment to bring their machinery and their site vehicles up to mine site specifications so they are able to work on site.
Industroquip provide the complete package when it comes to mine spec vehicle products, everything from reflective tapes both self adhesive and magnetic, UHF call signs in self adhesive and magnetic, UHF radios, flashing lights, cab bag spill kits, reversing alarms (quackers and beepers),fire extinguishers, first aid kits, machinery safety labels, wheel nut indicators and much more.
If you are about to work on the Western Sydney Airport project be sure to reach out to the Industroquip team now to discuss how we can assist you in bringing your site vehicles up to mine spec or Western Sydney Airport site requirements.
Other products Industroquip have been pleased to supply to this project has been Bannamesh, Safety Signs and also Temporary Road Signs to the Northern Rd project which connects this great project to the M4 motorway, Industroquip is an Australian family owned and operated company that have been manufacturing here in Australia since 1975.
Industroquip - Your One Stop Site Safety & Signage Provider!
1300 554 192
sales@industroquip.com.au