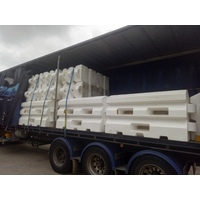 Melbourne Metro Rail Tunnel chooses Industroquip Safety & Signage for water filled barrier and anti-gawk screen contract
The New Metro Tunnel will create a new end-to-end rail line from Sunbury in the west to Cranbourne/Pakenham in the south-east, with high capacity trains and five new underground stations.
The Metro Tunnel will create capacity on the network to enable more than a half a million additional passengers per week across Melbourne's train network to use the rail system during the peak periods.
The project scope includes
Twin nine-kilometre rail tunnels from the west of the city to the south-east as part of a new Sunbury to Cranbourne/Pakenham line.

Five new underground stations: North Melbourne (in the Arden precinct), Parkville (under Grattan Street), State Library (at the northern end of Swanston Street), Town Hall (at the southern end of Swanston Street) and Anzac (under the Domain Interchange on St Kilda Road). The two stations under Swanston Street will be directly connected to the City Loop at Melbourne Central and Flinders Street Station.

High capacity signalling to maximise the efficiency of the new fleet of High Capacity Metro Trains.

Train / tram interchange between Anzac Station and the Domain Interchange.
Industroquip Safety & Signage are excited to announce that we were approached by this project to supply 180 water filled barriers complete with anti-gawk screens.
The Metro Tunnel Project chose Industroquip to deliver the project based on a few key points:
Ability to add Anti-Gawk Screens to the barriers:
Industroquip's water filled barriers are compatible with our own anti-gawk screens that provide better security and site privacy from passers by.
Barriers need to be speed rated:
Industroquip's water filled barriers are speed rated.
Barriers had to be pretested for leaks prior to despatch:
As the site engineers have had negative experience with competitors water filled barriers they wanted to ensure all water filled barriers were leaked tested prior to despatch. Pretesting for leaks is standard practice here at Industroquip.
Urgent Delivery - Christmas Period
The project required part delivery prior to the Christmas period of December 2018 and the remainder delivered early January, another point Industroquip were able to deliver on.
For all your Site Establishment Equipment from Printed Bannamesh, Site Fencing, Water Filled Barriers, Safety Products and Site Safety Signs contact the team at Industroquip now on 1300 554 192 or sales@industroquip.com.au, we deliver Australia Wide and go the extra mile to ensure customer satisfaction.