Westfield Waringah Mall Flexible Bollards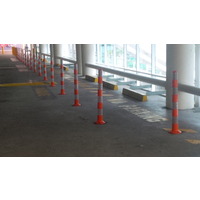 The team at Industroquip were pleased to partner with the team at Westfield Waringah Mall on the supply and installation of flexible safety bollards to redirect traffic in one of one of the car parks.
Industroquip's Lane-Flex® Bollards are a premium polymer product that will endure repeated impacts and wheel-overs. Lane-Flex® is available in multiple colours and heights ranging from 300mm to 1000mm. It is available in bolt down glue down, drivable spike, or removable socket form.