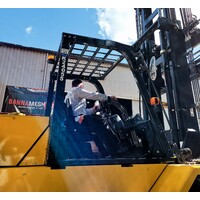 Here are the 3 main risks and suggested improvements that can be made.
Forklifts are used to lift, stack and transfer loads in many workplaces across Australia. However, every year they continue to cause workplace deaths and injuries resulting in substantial financial and human costs for workers, industry and the community.
The three main reasons workers are killed or seriously injured in forklift incidents are:
Being hit or crushed by a forklift

Being hit or crushed by a load that the forklift is moving

Being crushed in a forklift tip-over.
Here are some practical tips to help keep workers safe are:
Separate people from moving forklifts, using barriers or guardrails

If you cannot physically separate forklifts from people, clearly mark walkways and safe work zones, and make sure your workers stick to them

Make sure forklift operators only move loads that are stable on the pallet or use an attachment if needed

Make sure your forklift operators wear a seat belt

Make sure your workers and visitors, including delivery drivers, stick to your traffic management plan and site safety rules

Talk to all of your workers - including operators and those who work near forklifts - about how to work safely around forklifts.

Forklift incidents can be prevented, especially when workers and businesses work together to improve health and safety at work.
Check out the below case study video by SafeWork NSW on one of our valued clients Yates.