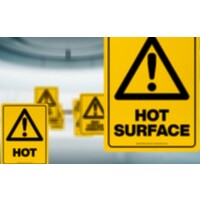 What are Yellow Warning signs used for in Australia?
The Yellow Hazard Warning Signs that you see in almost any Australian workplace are for marking out a hazardous situation that, if not avoided could result in serious injury.
The hazard symbol is a black symbol in a triangular shape on a yellow background.
The Sign wording if required is in black lettering on a yellow background below the hazard symbol.
Safety Signs are crucial in any work environment.
The primary importance of displaying Safety Signs is to prevent injury and ensure staff and visitors are well aware of the possible dangers and hazards ahead in certain situations and/or environments. Without signs, many employees would lack the necessary direction in times of crisis, and employers might find themselves in significant legal difficulties if any accidents were to arise as a result.
Understand the Australian Standard
AS 1319-1994 AUSTRALIAN STANDARD: Safety Signs For The Occupational Environment
This standard sets out the requirements for the design and use of safety signs intended for use in the occupational environment. These signs are designed to regulate and control safety related behaviour, to warn of hazards and to provide emergency information including fire protection information.
Prohibition signs.
Prohibition Safety Signs are used for specifying behaviour or actions which are not permitted, for example No Smoking in this area.
They have a red circle with a slash through it over the action symbol in black. if necessary it is also written in black text below the symbol on a white background.
Mandatory signs.
Mandatory Safety Signs are used for communicating important information and instructions that must be carried out, for example Hard Hat Must Be Worn.
Mandatory sign symbols are depicted in white on a blue circle. Extra text if necessary, is in black lettering on a white background below the blue mandatory symbol.
Danger signs.
Danger Signs are for marking an imminently dangerous situation that will if not avoided result in death or serious injury.
The Danger Symbol is in a red oval shape with white text against a black retanglular box with a white background. Text is black on a white background below the Danger Symbol.
Emergency information signs.
Emergency Information Signs are used for indicating the location or directions to emergency related facilities like first aid rooms, emergency exits etc.
Emergency Safety Signs feature a white symbol and text on a green background.
Fire signs
Fire signs in Australia are used for advising the location of fire extinguishers, alarms and other fire fighting equipment, they have a red background with a white symbol and white text.
For more information on safety signs please contact us now on 1300 554 192
For all your Yellow Hazard Warning Signs contact Industroquip now on 1300 554 192 or click here to view our range.
Hazard Safety Signs, Hazard Warning Signs, Australian Made Safety Signs, EcoSign, Bannamesh, Safety Signs Australia, Safety Signs Sydney, Safety Signs Newcastle, Safety Signs Wollongong, Safety Signs Canberra, Safety Signs Melbourne, Safety Signs Brisbane, Safety Signs Perth, Hazard Signs Perth, Hazard Signs Sydney, Hazard Signs Melbourne, Hazard Signs Hobart, Hazard Signs Newcastle, Hazard Signs Wollongong, Hazard Signs Toowoomba, Hazard Signs Geelong, Hazard Signs Hunter Valley,