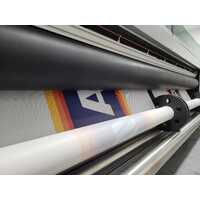 We often get asked what banner mesh is best for the most impactful, attention grabbing and best looking fence wrap in Australia.
What are the different materials?
We have two different banner mesh materials we print on firstly our Premium Bannamesh which is by far the most popular and then BreezeBanna which is a mesh materials with bigger holes throughout the mesh that is best for high wind areas as it obviously lets more wind pass through providing less resistance.
Print Quality
As all our different materials are all printed on the same state of art printing machinery the print quality is exactly the same on all materials whether you order Vinyl Banner, Bannamesh or BreezeBanna.
Conclusion
All our banners are designed to be well and truly vibrant and visible at at least 50 metres but for the most impactful print we recommend the Premium Bannamesh material because as the holes get larger there is less surface area to hold the ink.
Premium Bannamesh is by far the most impactful banner mesh material to use when wind isn't such a significant factor on your site.
All our Fence Wrap materials are printed right here in our own state of art manufacturing plant in Rutherford NSW and delivered direct to your sites anywhere in Australia.
For more information on getting banner mesh branded with you logo, call Regan now on 1300554192 or email sales@industroquip.com.au