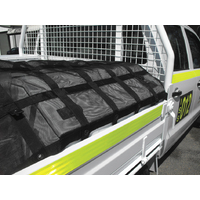 Here at Industroquip, we've made it easy with our One Stop Shop approach
We often get calls off our customers asking "What do I need to get to make my vehicle mine-spec?" or "I'm needing to Mine-Spec my new Hilux, can you help?" and whilst we've always been able to help, we have really made it straight forward with our Mine-Spec Vehicle Kits.
Each of the ExoGuard Mine Spec Safety Kits are tailored to the exact vehicle, so if you have a Nissan Navara we have a specific kit for that, if you have a Ford Ranger you'd like to Mine Spec we have a specific kit designed for that as well.
The use of the vehicle make is simply to identify what kit is for what vehicle and does not mean there is any affiliation between the vehicle manufacturer and Industroquip and does not mean these kits are endorsed by the vehicle manufacturers.
So if you want a one stop shop type approach to all your mine-spec vehicle requirements check out our huge range online and get it all ordered in one simple click and delivered direct to your workshop or site anywhere in Australia.
If you are not wanting to permanently fix the mine-spec accessories to your vehicle because you'd like to use your ute for play on the beach or in the bush on the weekends or you are needing to temporarily add Mine-Spec vehicle accessories to a hire or rental ute all you need if our Hire Vehicle Kit which is all simply magnetic and removable yet compliant.
So whether you are working on the Western Australian Iron Ore Mines, Hunter Valley Coal Mines or even the a large civil project like Western Sydney Airport that requires all vehicles to be up to Mine-Spec simply order a Grab & Go Mine Spec Kit from Industroquip or call the team on 1300554192 for any assistance.