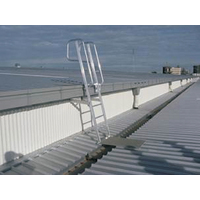 Often roofers in Australia are confused by the term catwalk in their industry, find out all about roof catwalks here
In the metal roofing industry in Australia, contractors often get asked by construction companies to provide and install a catwalk system on the project.
So you might be asking what exactly is a roof catwalk? Well another more common expression is a roof walkway system.
Roof Walkway Systems come in different types there are Aluminium options, FRP or Fibreglass options and there is also a perforated metal product that I believe is still produced by Lysaght's here in Australia.
Roof Walkway Systems are essential to protect roofs from contractors accessing air conditioning units and other roof top plant and equipment from damaging the metal roofing as well as providing a safe, anti-slip path away from direct fall edges to protect those workers accessing this equipment.
Rooftop walkways, catwalk systems and elevated walkways provide permanent and controlled access for contractors and maintenance technicians to undertake work on a range of elevated surfaces.
Roof access walkway systems offer a sturdy and secure route for workers, providing a non-slip surface in all weather conditions and removing the potential for trip hazards. Roof access walkways have the added benefit of protecting roof sheets and membranes from damage in high traffic areas, significantly reducing maintenance costs.
A well designed and compliant walkway system will ensure workers stay away from any potentially dangerous areas such as fall zones or vulnerable roof sheets and provide a safe method of access over skylights. A suspended walkway or catwalk system can provide access above or between large machinery, silos and more.
Most importantly a quality walkway system will keep your workers at height, safe and your site compliant, reducing injury and workplace liability.
Industroquip is Australia's leading importer and fabricator of Roof Walkway Systems in FRP (Fibreglass) and Aluminium.
Industroquip's roof walkway systems can be installed complete with integrated handrails around fall edges to provide PPE free fall protection.
Industroquip has onsite experts available in Sydney, Newcastle, Melbourne, Canberra and Brisbane to help you choose the correct roof walkway system for your roof to protect your roof and your roof workers.
Industroquip offer the complete package from design to installation or supply only delivered direct to your site in kits Australia wide.
For more information on roof walkways or catwalks please contact the team now on 1300 554 192.