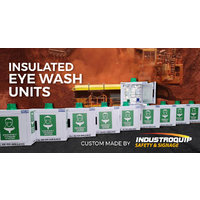 If you work in the Pilbara or other regions with extreme temperatures you'll want to read this
Some regions in Australia particulary in the northern parts of Western Australia, Northern Territory and North Queensland experience extreme hot weather all year round, resulting in the water and saline in eye wash bottles and eye wash stations to heat up which could cause further damage or even burns to eyes and skin.
Industroquip were approached by Rio Tinto the world's second-largest metals and mining corporation and asked to develop a solution to this problem, there was already one product on the market manufactured from polysterene but it couldn't handle the rough and tough conditions of the Pilbara mines.
After months of research by our product development team, we presented the team at Rio Tinto with our solution, the Insulated Eye Wash Station.
Industroquip's Insulated Eye Wash Station is not the first Insulated Eye Wash Station but is certainly the strongest and most reliable and is now found in many mines right across Australia.
If you are looking for a solution like this for a particular safety issue you have onsite please contact our team on 1300 554 192 now and we can guarantee you, because we have decades of experience in the safety industry and a state of art custom manufacturing facility here in Australia, our dedicated product development team will have a solution for you very fast.
The Industroquip Insulated Eye Wash Station is available for purchase direct from Industroquip and delivered to your mine site anywhere in the world or you can purchase the Insulated Eye Wash Station through one of our resellers.