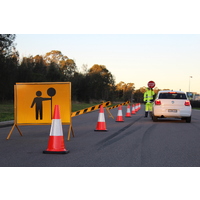 What's the difference between Class 1 and Class 2 reflective tape?
Class 2 Reflective Films are ideal for non-critical, off-road signage that require high visibility and retro-reflectivity. They are also printable for decals, fleet, and general signage.
Class 1 Reflective Films are best suited for high intensity reflective signage and vehicle application.
Class 1 are premium-grade reflective films, and most are approved for vehicle use in Australia.
Popular uses for these films include – road signs, emergency vehicles mining vehicles and machinery, and any general signage applications where reflected light from wider angles is required.
Industroquip stock both classes of reflective materials in diagonal stripe patterns and plain materials in a range of different colours and sizes, Industroquip can also customise reflective tapes with your logos and unique patterns or colours, just ask our team for more info