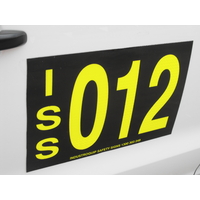 You've been asked to Mine Spec your vehicles and equipment, but what numbers should you put on my call signs?
We often get asked by contractors working on mine sites and large infrastructure projects "What letters and numbers do I put on my UHF Call Signs?"
As all our UHF Call Signs are custom made to order there is no right or wrong answer, but generally our customers use the intials of their company for example:
ABC Constructions would use ABC whereas Lend Lease would use LL other customers use the name of the machine in the text for example a Bulldozer might have the initials DOZ followed by the number.
With the numbers generally our customers would start with 001 obviously and work their way up as they add more machines to their fleet.
Industroquip are the Australian manufacturer of Mine Vehicle ID Plates & UHF Call Signs.
Industroquip provide the complete package when it comes to mine spec vehicle products, everything from reflective tapes both self adhesive and magnetic, UHF call signs in self adhesive and magnetic, UHF radios, flashing lights, cab bag spill kits, reversing alarms (quackers and beepers),fire extinguishers, first aid kits, machinery safety labels, wheel nut indicators and much more.