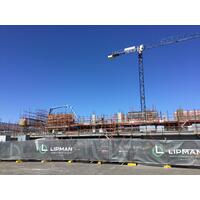 The Construction industry is a risky industry, the correct safety signs helps reduce hazards
Construction industry activitied span across small and large projects in engineering infrastructure, mining, resource and building.
Often employeeing different people and specialist trades to complete tasks increases the potential dangers and risks on a construction site.
The use of Construction Site Safety Signs can reinforce safety policies and procedures for a safer operation and as a direct result timely completion of our construction project.
What is a Safety Sign?
A safety sign is one which gives a specific message to those who may be exposed to hazards in the workplace, they may be to prevent accidents, signify health hazards, indicate the location of emergency and safety equipment or to give guidance and instruction in an emergency situation.
The primary importance of displaying safety signs is to prevent injury and ensure visitors and staff alike are well aware of possible hazards and dangers in specific situations or environments. Safety Signs also provide the necessary direction in times of crisis which helps protect employees and property owners from legal difficulties if an accident was to occur.
Many dangers can often go unnoticed in your workplace or facility particularly with visitors and members of the public that may visit your site.
Industroquip Safety & Signage has a huge range of safety signs available to you to help create a safe, well identified workplace or facility. All Industroquip Safety Signs are manufactured here in Australia to meet Australian Standards and also withstand the harsh Australian weather conditions for many years.
Industroquip Safety Sign Ranges & Their Meanings
Danger Signs have the word 'DANGER' inside a red oval which is inside a black rectangle. Sign text is in black text on a white background.
Danger Signs in Australia warn of hazards and/or hazardous conditions that are likely to be life threatening.
To view our range of Danger Signs click here
Warning Signs in Australia are yellow background with black text and have a large triangle around the hazard symbol.
Warning Signs warn of hazardous conditions that are not likely to be life threatening.
View our range of warning signs now click here
Emergency Signs in Australia have a green background with white text.
Emergency Signs direct employees and visitors to emergency assembly points or first aid equipment for example eyewash units, first aid kits.
To view our range of Emergency Signs click here
Prohibition signs in Australia are to specify actions and/ or behaviours that are not permitted in your workplace or facility, Prohibition Signs are easily recognised by their large red circle with a red slash across it. Prohibition Sign text is in black on a white background.
To view our range of prohibition signs click here
The team at Industroquip Safety & Signage are committed to providing the very best quality compliant safety signs to help accelerate your construction site to zero injuries!
Many construction sites are now also getting Bannamesh around their construction site fencing to advertise their company brand and make their site more secure, Industroquip manufactures Bannamesh in our Newcastle state of art printing facility and ships it worldwide.
For more information on Australian Safety Signs & Their Meanings contact one of Safety Sign Experts on 1300 554 192 or visit SafeWork or Australian Standards websites.